by Angela Bandurka
Barbara De Pirro (
)
came in to give a presentation about the amazing Golden acrylic products last weekend and we were packed to the rafters with an engaged audience! Barbara's presentation was so informative, creative, and generous that we felt that we needed to share some of it with all of you.
We hope to bring her back again soon for another presentation - even if you don't paint with acrylic paints, you might find some of these products come in handy for your woodworking, textile design, graphic arts and a plethora of other applications.
Some of the products that were most intriguing are:
GAC Specialty Polymers
("Golden Artist Colors", or "GACK!")
GAC 100: This seals your surface, so if you like to paint on wood and want to retain the look of the wood in your piece, paint this clear polymer first and let it dry. Then you're ready to go and you won't have to worry about the sap or oils from the wood interfering with your painting! This product is also good for painting on other surfaces that need to be sealed - fabrics that you stretch on canvas, for example. Dries stiff and clear.
GAC 200: Great to add to your paint for outdoor murals or to prime hard surfaces like glass and metals!
GAC 400: Will dramatically stiffen fabrics for cool sculptural effects!
GAC 700: Great for glazing
GAC 800: Perfect for imitating encaustic techniques, you can pour thick applications of this one without worrying about it forming valleys and cracks (those annoyances are called "crazing") - can be tinted with yellow for a beeswax look. Air bubbles? Just spritz a little rubbing alcohol on it to get rid of 'em!
GAC 900: This is fantastic for painting on fabric while keeping the fabric's softness and flexibility! Heat set it in the dryer when you're done and you're "golden"! (sorry, couldn't resist)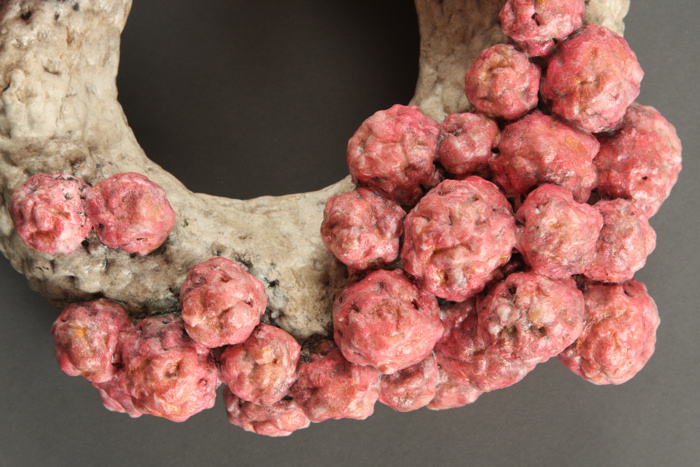 "Nectary" by Barbara De Pirro,
(detail), 2011, crocheted fiber, encapsulated and painted using acrylic
Golden Gels:
you can apply up to 50% gel to paint and still retain your colour! That's due to the high pigment load in Golden paints - you couldn't do that with student grade paints.
Soft Gel is great for collage glue. Feels soft and buttery.
Regular Gel is the same viscosity as Heavy Body paints - like toothpaste.
Heavy Gel and Extra Heavy Gels are stiffer than regular gel and are great for creating thick, sculptural effects.
Clear Tar Gel: Great for marbelling effects and dripping lines on your project. Be sure to apply in thin layers to avoid "crazing" (see GAC 800 description for definition :)
Self-Leveling Clear Gel: levels flat when poured, also must be applied in thin layers!
Golden Pastes:
These are opaque (covers what is under them), and you can mix in some paint but you'll get a tint of the colour since the pastes have a white opaqueness to them.
Molding Paste: dries smooth, good for imprinting on!
Light Molding Paste: dries with a slight tooth, flexible and highly absorbent.
Hard Molding Paste: dries smooth and hard - great for sanding and carving
Coarse Molding Paste: bright white and toothy
Fiber Paste: When dry, looks like handmade paper (toothy)!
Crackle Paste: Do not rush its dry time, or it won't crack :)
"Glow" by Angela Bandurka,
2013, Golden acrylics painted on canvas prepped with a layer of light molding paste first, then gesso tinted with napthol red light.
Golden Grounds:
Absorbent Ground: great for watercolor techniques with watercolor or acrylic washes. Also slightly toothy and porous.
Acrylic Ground for Pastels: awesome tooth, great for drawing wit all media including pastel and pencils. Translucent!! So it can be applied in thin layers over other drawings/washes :) Be sure to spray each layer with a blast of varnish before painting on another layer of ground!
There was so much more information than this in the presentation that I couldn't possibly put it all up for you - but please refer to Golden's website for more details about their products at www.goldenpaints.com, including a great newsletter and detailed descriptions of how to achieve certain effects! They are also one of the few companies that have excellent customer service and welcome calls to their technical support line: 1-800-959-6543.
And you're always welcome to call ARTspot to ask any of our knowledgable staff what medium/gel/paste might work best for your project! If we don't know, we'll find out!