ARTspot is pleased to offer a wide selection of quality watercolor pigments, travel sets and kits! .... and everything to go with them!
OMG... we have a great selection of watercolor palettes, amazingly useful brushes and paper: pads, blocks, and full size sheets from U.S manufacturers as well as the classics from Italy and France. And all the other stuff you need to be anything from a beginner to a weekend warrior, to a professional watercolor painter. Come see us!
Dan Smith Artist Watercolors
We carry over 140 colors of these highly pigmented Seattle made professional quality colors. These extra-fine watercolors span the color spectrum from the historical to natural earth and quinacridones. Outstanding color strength, extremely vibrant colors and excellent brushing properties make these paints desirable for any watercolor artist.
The pigments are procured from around the world. the paints are manufactured in Seattle, Washington. We discount them every day for every artist. no coupons needed.
PrimaTek Watercolors are made from naturally occuring pigments, reviving the tradition of making paints the way the Egyptians and other cultures did but with modern technology. Sourced by geologists, these unique pigments have amazing and interesting granulating properties.
The luminescent watercolors add a touch of special color found in nature that regular colors cannot match. They're made from mica pigment, thin transparent particles coated with highly reflective metal oxides. They show best as glazes over darker colors and are excellent mixed with other colors adding a bit of their luminescent glow.
Duochrome colors contain one pigment that bounces between two colors causing a color shift. Interference pigments display a subtle sheen and they cause refraction where a particle of light enters the paint/pigment matrix and scatters light. Iridescent colors reflect light and their semi-transparent quality adds a fascinating sense of depth to artwork.
Pearlescent colors add opalescence - like an opal or pearl - to the color it's mixed or glazed with.
Dan Smith Watercolor Ground
Manufactured to the highest standards, this ground has a thick, brushable consistency. Apply it with a soft brush for a smooth finish or a bristle brush for a bit more texture.
Because it creates a surface more absorbent than paper, you can use less water with your paint than normal. Experiment and see what works best for you. You also have the option of diplaying your watercolors unframed (no glass!) by sealing your finished work with an archival spray varnish.
Graham Honey Based Watercolors.
Portland made professional quality colors. M. Graham watercolors are brilliant, highly pigmented and suitable for all traditional techniques with beautiful, even washes and no hard outlines.
Made with exceptional amounts of pigment in an old fashioned binding medium of pure gum arabic and natural blackberry honey. They are compatible with any other watercolors you may have. The honey actually makes your brushes last longer! Graham has a great knack for creating unique colors. Graham cobalt teal is to die for!
ARTspot price is 30% Off.
QoR watercolor sets by Golden.
QoR watercolors feature an advanced archival, water-soluble binder, Aquazol, that supports greater pigment loading than traditional watercolor binders. This allows QoR (pronounced core) watercolors to provide more pigment strength and vivid depth of color in every brushstroke, while retaining the best qualities of traditional watercolors. The binder is used within the conservation community for painting restoration, and is more flexible and less brittle than traditional watercolor binders, offering improved flexibility and adhesion.
The vibrant, intense colors flow well, produce incredibly smooth transitions and stay brilliant even after they dry. They also have excellent resolubility in water and have great glazing qualities.
We carry the six and twelve color Introductory sets (5ml tubes).
travel sets
Inktense Paint Pan Travel Set by Derwent
The Derwent Inktense Paint Pan Travel Set features 12 highly-lightfast Inktense paint pans found in the pencil and block ranges. Unlike traditional watercolor, washes of vivid paint can be applied without dissolving previously dried layers. Ideal for travel with everything needed to paint on-the-go, this set contains 12 Inktense paint pans, a mini waterbrush, a sponge and five mixing palettes. Inktense is suitable for use on paper and fabric for a wide range of fine art and craft projects.
Cotman Watercolor Compact Set by Windsor Newton
We always have a variety of these fun compact sets. Ideal for the beginning artist on the go. Economically-priced, the sets containstudent-grade watercolors and a field brush. A detachable water cup and a removable mixing tray are also included.
Koi Watercolors Pocket Field Sketch Box Sets by Sakura
On-site watercolor painting is simple with a studio right at the artists' fingertips! These sets feature half pans of Koi watercolors, specially formulated to blend easily to create an endless color range. Each set includes a large water reservoir barrel, a detachable medium brush tip, two dabbing sponges, a snap lid that acts as an easel for postcard size papers, a detachable, pegged palette that secures to the set base either to the right, left or center sides and a base pull-down ring that allows for easy gripping.
you will have so much fun with a watercolor travel set. take it with you on vacation, or just to your own back yard.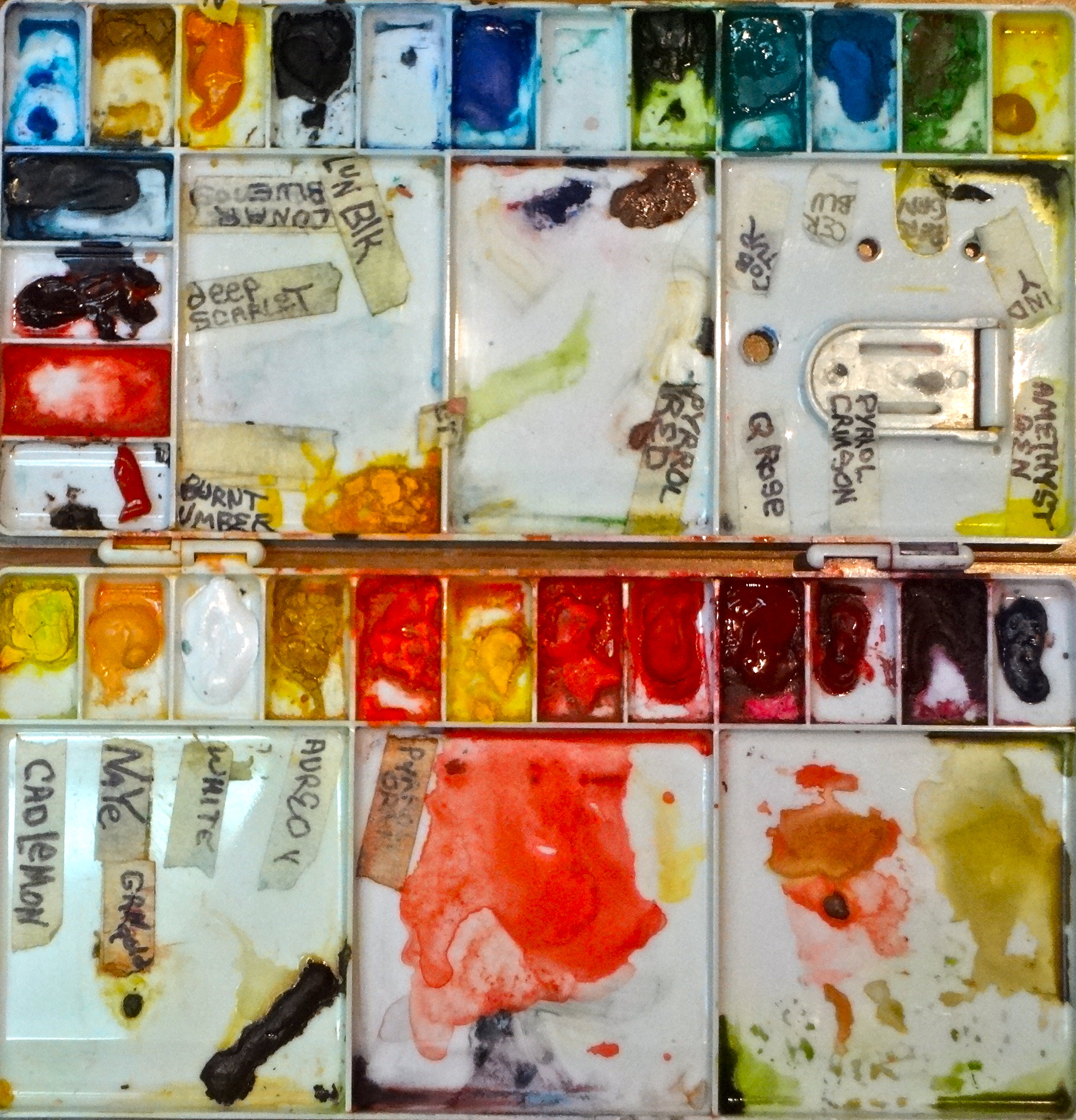 we are your one stop watercolor mecca. Paper pads, blocks, full size sheets. Brushes. Frisket. Palettes.