Get your studio set up with these eco-friendly and made in the USA craftsmanship easels and palettes!
Mijello air tight is our favorite.
The easy snap on lid is air tight to save your paints from drying out. The surfaces are all "peel off" so you can use both sides of lid for extra palette mixing space or to make gel skins. Also great for oil paints!
Masterson System. ARTspot carries these palettes and the hard to find replacement sponges and papers so you can replace these as needed.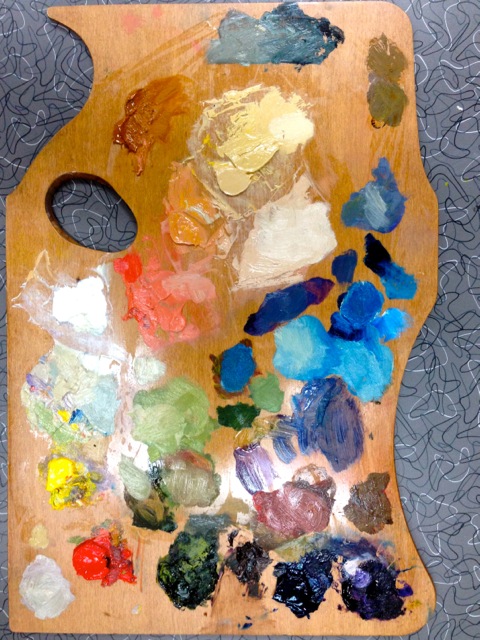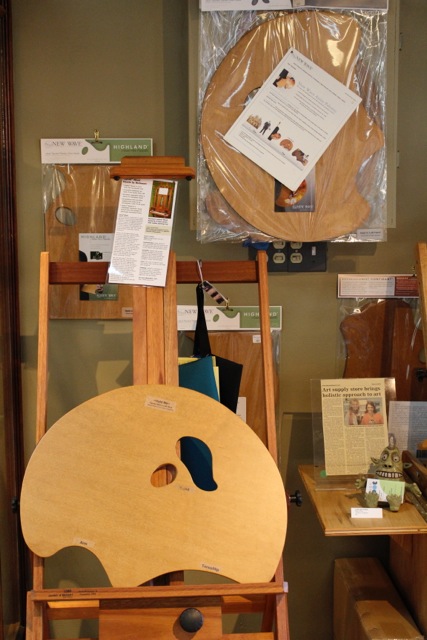 New Wave created this entire line of palettes to be ergonomic. These feel great and are encouraging painters to get back to standing with their palette held on thier hip in the traditional style of working. These white maple beauties are hand crafted by Amish craftsmen in Pennslyvania. The ultra smooth surface is a please to mix paint off and clean off easily. This line also includes grey toned disposable palettes in pads, acrylic peel off, and the new Posh designs. New Wave is Keith and Kyle O'Brien - a wonderful new family owned business. These brothers are sharing the unique designs created by their father for use in his painting studio!
Palette Cups and Brush Washers
Palette Cups
Air tight and stainless steel. Perfect storing the perfect color you mixed up.
Brush Washer
The Ultimate Brush Washer -- It's what's on the inside that counts. A cover, a removeable sediment tray and a brush holder to protect the brush head from damage, this brush washer has it all. Its good looks are an added bonus! Holds 6-7 brushes. Measures 6-1/4" x 5-1/2".
We love the Richeson line of Lyptus wood easels.
This line of easels is created from eucalyptus wood, a environmentally responsible renewable resource with a very dense grain rivaling oak. Our favorite is the Lobo - which tilts back to accomodate ease in transitioning your work from a vertical to a horizontal position. Jack Richeson and his family are from Wisconsin.
We have a variety of Lyptus designs, all of which fold flat with ease to store in closets or against the studio wall. But really they are so beautiful, many people purchase them to display art in thier living rooms.
All our Richeson easels are 30% off retail everyday.
Field Easel
Traditional french easel for plein air (outdoor) or indoor studio work. Legs can be folded to use as a table top easel. Has a handy drawer built in. If you are in need of economy of space, this can be your painting studio in a box.
Lightweight Aluminum Floor and Table Top Easels
You can find these cheaper, but we don't carry the ones with the skinny unstable legs and wimpy snap joints that break off after a year. Trust us to find a stout design that will serve you better. These come with carrying cases that make you look cool carrying around your easel where ever you need to go.
Table Top Easel
Our most popular table top easel, the Ravenna is stable and accomodates up to a 34" board or canvas. You will love the dovetail construction. Black or natural wood, both look even better with some paint on it from using it to make art. We discount these everyday.