Encaustics is the ancient art of painting with heated beeswax. ARTspot is committed to offering a wide selection of encaustic colors, mediums and hard to find specialty tools!
For the love of encaustics, you will find everything you need here - because we are kind-of OBSESSED with ENCAUSTICS here at ARtspot:
- full line of colors by enkaustikos
- R&F whites, metallics and encaustic gesso
- Wood panels and ampersand panels


- Full Color Selection of Woodies Water Soluble Crayons


- Books on Encaustics by Patricia Baldwin Seggebruch, Daniella Wolfe, Joanne Mattera and more.
- Variety of Brushes APPROPRIATE for use with hot wax
- TCW Stencils - always a big selection of these stencils that hold up to hot wax!
Encaustic Classes & Workshops
1. Renegade Encaustics with Tracy Felix
A whole series of "Try-It" classes to experiment with the materials and tools for painting with hot beeswax. This ancient medium is experiencing a major resurgence with mixed media artists. In this class you will get to try beeswax, wax medium, hot wax tools, and a smorgasbord of art materials from ARTspot! All materials and two supports are included in the $70 fee.
Artspot is partnering with Lisa JonesMoore to offer open studio time specifically for encaustic artists.
Offered most "first" Fridays each month. Come and play with warm encaustic wax in a safe studio environment! $35 for each session, or $45 if you wish to have 4 fluid ounces of clear encaustic medium provided. Read Beacon Newspaper announcement.
LOCATION: ArtWorks in downtown Edmonds, WA, at 2nd & Dayton.
WHEN: Most "first" Fridays of the month (except for October & December 2015) from 1-5 pm. Currently scheduling for 2016. We will post dates soon.
FEE includes: Access to the ArtWorks facility for the afternoon, all heated tools and equipment, 4 fluid ounces of clear encaustic medium (upon request) and a SAFE studio environment. SPACE IS LIMITED, PLEASE BE SURE TO RSVP BEFORE ATTENDING! I
Register directly with Lisa JonesMoore by calling her at 425-773-3803
or email at: jonesmoorestudioart@gmail.com
The following contains excerpts from AgriBio Research at Michigan State University that we think your staff will enjoy learning about.
It has often been said that bees are responsible for one out of every three bites of food we eat. Most crops grown for their fruits (including vegetables such as squash, cucumber, tomato, and eggplant), nuts, seeds, fiber (such as cotton), and hay (alfalfa grown to feed livestock), require pollination by insects. Pollinating insects also play a critical role in maintaining natural plant communities and ensuring production of seeds in most flowering plants. Pollination is the transfer of pollen from the male parts of a flower to the female parts of a flower of the same species, which results in fertilization of plant ovaries and the production of seeds. The main insect pollinators, by far, are bees, and while European honey bees are the best known and widely managed pollinators, there are also hundreds of other species of bees, mostly solitary ground nesting species, that contribute some level of pollination services to crops and are very important in natural plant communities.
When a bee lands on a flower to collect nectar the hairs all over the bees' body attract pollen grains through electrostatic forces. Stiff hairs on their legs enable them to groom the pollen into specialized brushes or pockets on their legs or body. Not all of the collected pollen is transferred to other plants, some is carried back to their hive. Depending on the plant source some pollen may be white in color while others might be variations of yellow.
Since pharmaceutical grade is never bleached the natural color remains. Consequently, Enkaustikos offers two types of USP grade beeswax white and yellow. Both are chemical free and the reason why we use it in our manufacturing, also suitable for skin care products.
Full line of Encaustics Mediums and highest quality pharmaceutical grade Beeswax
US made professional artists colors and mediums.
Made from U.S. Pharmaceutical Grade refined beeswax and damar resin, this wax medium can be used to create textures or can be added to Enkaustikos Wax Paints to increase transparency for glazing techniques. It is ideal for mixing with your own pigments to make custom colors, and can also be applied as a topcoat to add depth to finished encaustic paintings.*
Specialty Colors
We are very excited about our newest Interference Wax Series offerings. We have five new Interference Paints and now offer five paints in our Opal Series.
Our Interference Wax Paints feature an Interference Violet, Blue, Green, Gold, and Red. They are so densely pigmented they can be used as a paint or as a wax medium. Available in our popular 40 ml Wax Snaps® shape, each is made from the same USP grade white beeswax and damar gum resin that we use in all our mediums and paints.
Our Opal Series is an expansion of two of our best sellers, Opal Aquamarine and Opal Calypso Green. We have added Opal Rose, Opal Sapphire, and Opal Sun. Also made from the same USP grade white beeswax and damar gum resin, plus a special combination of translucent and interference pigments that will give a duo-chrome effect, sure to be a nice addition to your color palette. Available in our popular 40 ml Wax Snaps® shape.
If you are not familiar with interference colors here's a brief explanation of how they work. Regular pigments like ultramarine blue reflect light waves so a brushstroke made with ultramarine pigment will look blue. Interference pigments are transparent platelets of mica pigment covered with highly refractive metal oxides. When light strikes the surface of these pigments it is refracted, reflected, absorbed and scattered by the layers that make up the pigment.
Since they are transparent they are influenced by the colors from the surface below. Colors mixed with interference medium will change ("flip") when viewed from different angles. Over a white or light background the color is subtle and the "flip" more obvious. Over a black or darker background the color is more obvious and the "flip" less noticeable.
Our Interference and Opal Series can be used straight or can be mix with any of our transparent paints to create an array of special effect colors. Control the intensity of interference reflection by extending the blend with either our original Wax Medium blend or our XD Wax Medium. Interference pigments are also lightfast and for extra dimensional effects are very popular with artist who do encaustic mono-prints.
*Images and Description courtesy of Enkaustikos
Anodized Aluminum Plates for Monotype Prints
Great for encaustic monoprinting, these affordable and portable plates allow artists to convert any pancake griddle into a printing plate. They have a clear anodized coating to eliminate color reaction to the aluminum surface. These plates also can be used as a color mixing palette.*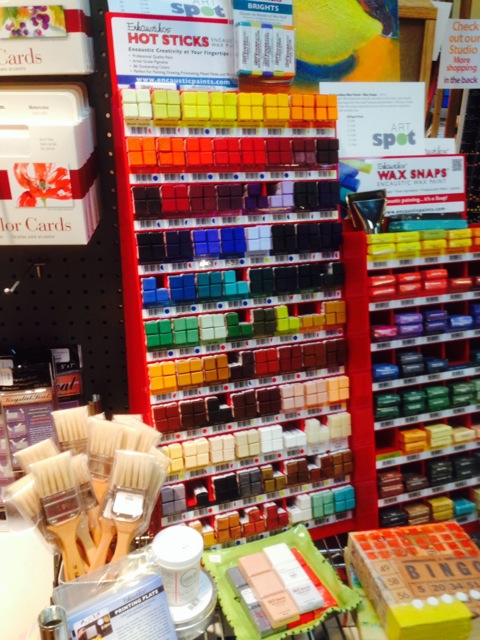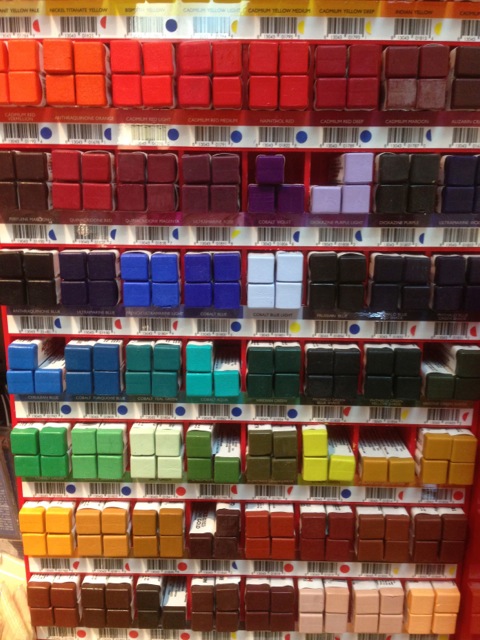 Enkaustikos
Full line of Hot Sticks and Wax Snaps pigmented encaustic colors.
Hot Sticks Encaustic Wax Paint
Enkaustikos
Hot Sticks feature the same professional artist quality colors you find in the Hot Cakes line in a versatile, square stick. These encaustic paints are made from quality pigments, the finest damar resin and United States Pharmaceutical Grade (USP) refined natural beeswax. The versatile square paint stick shape allows artist to easily use encaustic paints for encaustic painting, printmaking, rubbings and mixed media techniques. They can be melted directly on a hot palette to create a puddle of color for brush application or can be applied directly on a heated substrate. When applied to a heated substrate, they glide just like lipstick. The tip of the stick can be used to paint fine details or the stick can be swiped on its side to make bold strokes of color. Colors can be mixed directly on the painting or on a hot palette. The sticks can also be melted together in a large tin to create custom mixes. Each stick measures 2.5" x .56" x .56" and contains 13ml of paint.*
Wax Snaps Wax Paint
Enkaustikos
This professional encaustic wax paint is available in a versatile 40ml bar. The shape of this bar allows artists to use the whole bar or to break off a section with a simple snap. They are great for printmaking techniques, direct melting on a hot palette or snapping off a section to use for refills. They are ideal for the workshop and classroom setting, where they can be easily snapped and shared. Made from US pharmaceutical grade beeswax, Dammar resin and high quality pigments. These snaps are highly pigmented and can be used full strength or diluted with a wax medium to create glazes and extend paints.*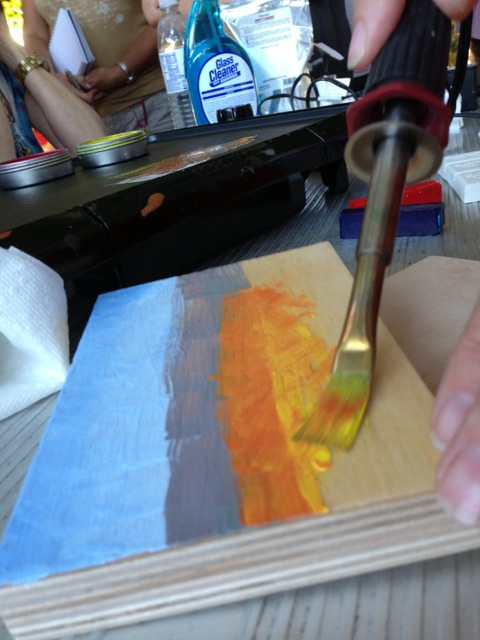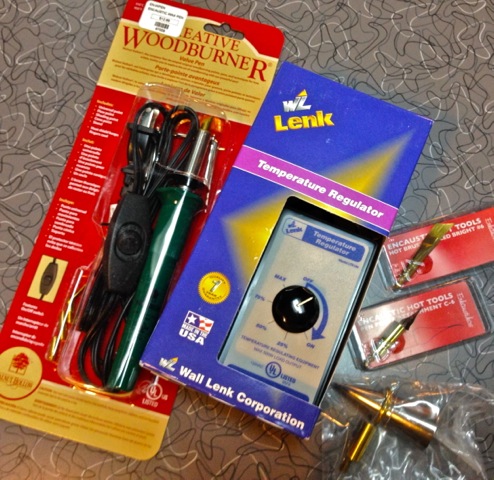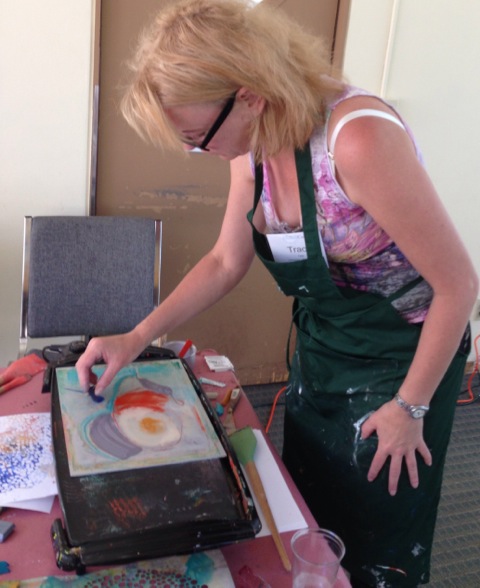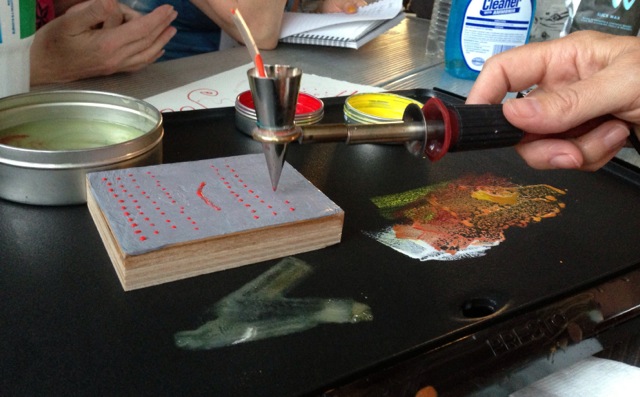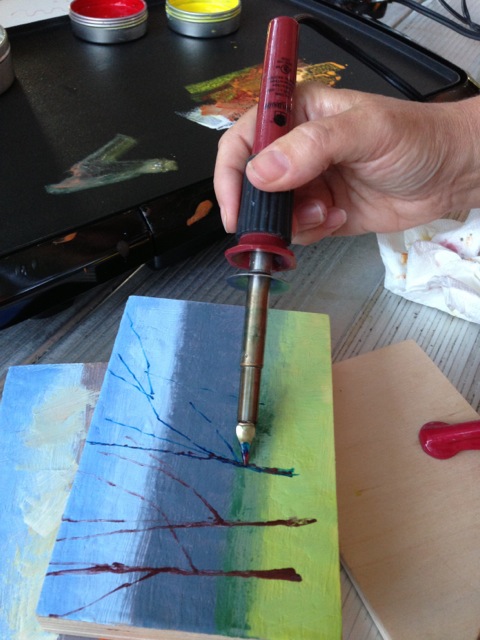 Enkaustikos Hot Tools
Use these heated tools manipulate the wax with fun and exciting techniques! We are one of only five stores in the country to carry these hot tools in stock!
R&F Encaustic Metallics, Whites and Mediums
ARTspot has a selection of our favorite R&F encaustic colors: we love their metallics and the large blocks of coveted whites!
Encaustic medium is encaustic paint without pigment. Used to extend colors and to create transparencies. It is made of the same 100% pharmaceutical grade beeswax and damar resin as the encaustic cakes. Available in 333ml cakes.*
Encaustic paints are popular as an alternative to oil and acrylic paints. They are a versatile medium as they can be molded, layered, sculpted, textured and combined with collage materials, with no drying time required. Made of pigment, pure beeswax and damar resin, these ready-to-use, heavily pigmented encaustic paint cakes come in many vibrant colors. Encaustic cakes are resistant to moisture and highly durable.