Acrylic is an extremely versatile paint. Layer on pure vibrant colors or mix it up with a variety of gels, pastes, mediums or simply water!
Golden Heavy Body Tubes - Made in New york state
2 oz tubes - 96 Colors
5 oz. - Most popular colors
8oz jars - Titanium White
These 100% acrylic, smooth, thick colors are offered in a large assortment of unique pure pigments. There are no fillers, extenders, opacifiers, toners or dyes added. They render excellent permanency and lightfastness. Each color is formulated differently depending on the nature of the pigment. Colors that tolerate higher pigment loads dry to a more opaque, matte finish. Colors that are more reactive and do not accept high pigment loading dry to a glossy finish and tend to be more transparent.*
Golden Fluid Acrylics
Full color range in 1 oz.
Popular colors in 4 oz.
These highly intense, permanent colors have a consistency similar to heavy cream. They are produced from lightfast pigments, not dyes. No fillers or extenders are added. Fluid Acrylics contain high pigment levels suspended in an acrylic polymer vehicle. Click here for color reference chart for all standard fluid acrylic from Golden.*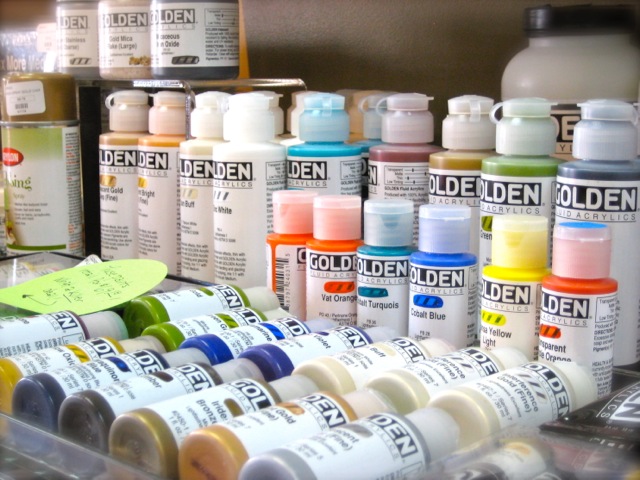 Golden High Flow Acrylics
Full color range in 1 oz.
Popular colors in 4 oz.
These acrylic paints have an ink-like consistency that lends itself to a wide range of techniques. From fine line detail work to broad strokes, these acrylics are suitable for many different applications including calligraphy, mixed media, airbrush, refillable markers, technical pens and brushes. Designed for artists who want to achieve fine line detail, standing effects and level colors. The line includes natural earth colors, core colors, iridescent colors and fluorescent colors.*
Full line of all Golden acrylic gel mediums, molding pastes, gesso and specialty gels.
Also GAC additives for special effects.
All Golden products are professional quality products made in USA.
M. Graham Acrylics - Made in Portland Oregon
M. Graham acrylic artists' color are made with the same devotion and craftsmanship that we use in our traditional media: small batches, quality ingredients, and the highest concentrations of color possible. The result is fine art acrylic paint with bold vitality and a creamy delicacy of touch that offers you a world of opportunity — from fine detail to broad, full-brushed applications.
We carry special selection of most popular colors.
Art Alternatives Gesso
White, black and clear. Small sizes up to bulk sizes.
Art Alternatives titanium-based white acrylic primer provides a reliable, classic foundation which is permanent, non-yellowing and flexible when dry. No prior sizing necessary. Great for artists and students alike, it may be used on a variety of porous surfaces, such as canvas, wood and other panels, or paper with oil, acrylic, alkyd and spray paint. Multiple coats may be sanded to create a smooth portrait surface.
Save your black paint and make a stunning background with this opaque black primer! Art Alternatives Black Gesso provides a sufficiently rigid yet pliable surface with a clean black satin finish. It has a slight tooth to aid adhesion, dries quickly and will not crack. No prior sizing necessary. It is ideal for use with acrylics, oils or tempera, on a variety of porous surfaces including canvas, wood panels and paper. It also makes a great base for colored pencil, soft and oil pastels, crayon, paint markers, spray paint and more.
Create an archival barrier while allowing the beauty of your surface to show through with Art Alternatives Clear Gesso! Ideal for us with raw canvas or wood, it can be applied to any porous surface including paper or panels. No prior sizing necessary. Permanent, non-yellowing and flexible when dry, primer is transparent to semi-transparent depending on the application. It can also be mixed with any acrylic paint to create a custom color background for oil, acrylic, or spray paint as well as dry media. Medium-coarse tooth is an excellent base for charcoal, graphite, pastel or color pencil.
We also carry gift sets of Art Alternatives Acrylic Paints during the holidays.
Pebeo Studio Acrylics
100ml. ARTspot price every day $6.25. Full range of colors including fluorescents and metallics. French Made.
Developed with precision for the student of art or high volume user, these acrylic colors feature deep and rich pigments and dry to a satin matte finish with good lightfastness. They are very adherent and indelible once dry and they are suitable for most surfaces and can be easily mixed and blended. It has a thick consistency and retains the brush or painting knife mark, making it particularly suited to work in dimension.*